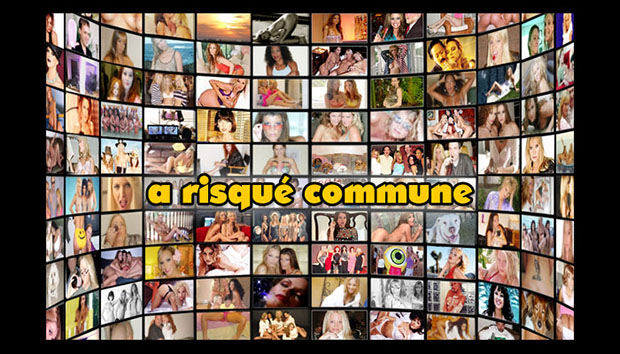 Really Risqué for a Really Long Time
Quite a challenge presents itself when trying to condense two decades in the adult movie industry into a couple of brief paragraphs. So we're not even going to try. … Hey, our most dear philosophy around here probably would be that one should try mightily to avoid taking on any task that one has no chance of accomplishing. (Of course the winning sentiment around here could also be that really excellent Mexican food can cure any ill, but odds seem good that this slight discrepancy probably doesn't matter right now.)
Consequently, instead of rehashing all the wonderful things that keep thinking porn fans riveted to their computers every week, we'll just point out that you can read all about the risque Wow Factor over at risque.com ... Spend some time going through that free area if you want. That will take some dedication, albeit distinctly of the fun variety.
To give you a very brief synopsis, we'll give you a list of Adult Diary episodes of a few of the most popular (alphabetically, sort of) stars on the site. So how's this for a list?
Juli Ashton, Georgia Adair, Phaedra Alexis, Anais, Julia Ann, Asia Carrera, Angel Cassidy, Cytherea, Stormy Daniels, Gregory Dark, Dee, Alexis DeVell, Wendy Divine, jessica drake, Emmanuelle, Tall Goddess, TJ Hart, Taylor Hayes, Kylie Ireland, Norma Jean, Jewel, Jana Jordan, Jill Kelly, Chasey Lain, Devinn Lane, Shayla LaVeaux, Erica McLean, Sean Michaels, Kaylan Nicole, Nikita, Michael Ninn, Rayveness, Serenity, Cheyenne Silver, Taren Steele, Kristal Summers, Stephanie Swift, Tenaya, Inari Vachs, Vicca, and Heather Vuur.
There are certainly more, which you'll see for yourself if you join, but that's 42 of them, and as we know that the answer to "life, the universe, and everything" so we'll just stick with that.
Bottom line: YOU GET ALL OF RISQUE FREE WHEN YOU HOOK UP WITH CYTHEREA'S MEMBERS' SITE. (That's probably even better than good Mexican food, but it's close.)
I'm looking forward to playing with these girls.
— Cytherea