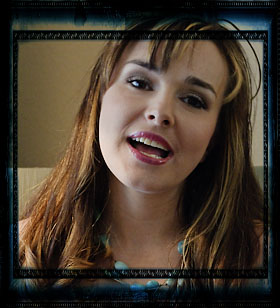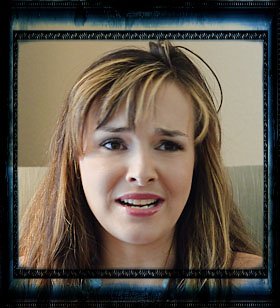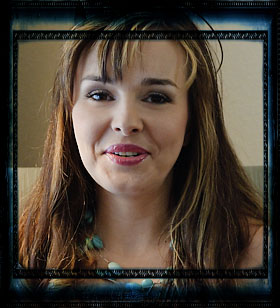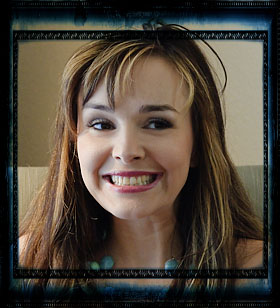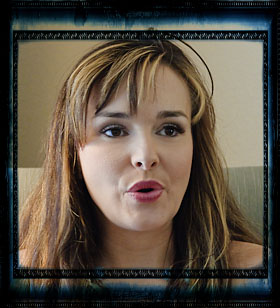 Eclectic Derivation
As you may know, the name "Cytherea" comes from Greek Mythology and serves as another name for "Aphrodite" — the Goddess of Love. Considering Cytherea's chosen profession, that works, right? Now we can't be certain that our Cytherea relied upon that romantic connection before embarking on her "nom de porn" here, but no one can doubt that Dear Cy certainly brings a unique … um … expression to the physical expression of joy. We can see the outside easily enough, and now Cytherea has finally taken the reigns of her own web presence. You'll find her on her Blog everywhere, and you'll find an even more intimate "her" inside her members area.
Come "inside" with me. It'll be a wild ride.
— Cytherea
Cytherea's Bio in Brief
I was born September 27, 1981 to a poor, single, 18 year old mom. She got married when I was a year old, and I now have three sisters and one brother.
I was a real dork when I was in school. I had pink glasses. One of my eyes needed a much stronger prescription than the other, so one lens was always much thicker than the other, and my eyes looked like they were different sizes. I also permed just my bangs to see if perming worked. It did, but the look didn't.
Because of all this, kids teased me, but when my older sister enrolled in my school she beat up the mean kids, and they didn't make fun of me anymore! I became more outgoing and even joined the Pink Cougars Cheerleading squad. I also did the MC Hammer dance for a school show!
My mom always said I was an ugly duckling and would grow into my looks. She was right. I grew out my perm and ditched my glasses in Junior High. Then I began dating the most popular boys in school. One girl got mad at me for horning in on her action, but I'd learned some wrestling moves from my dad and put her in her place!
Overall high school was OK. Mostly I slipped under the radar. I wasn't popular, but I wasn't unpopular. My favorite class was shop, because I was one of the only girls! I did well in that class, but hated home ec. I still suck at sewing!
I met Brian (my ex from when I was first in the business) when I was dancing in Vegas. He promised to show me the ocean. I'd never seen the ocean so took him up on his offer. As it turned out, there were a lot of "waves" in that relationship too, but for now I'll just say that we've been separated for a long time now, and I'm much happier.
I started my own Yahoo group fairly quickly, posting naked photos of myself like a lot of girls do. An Adult modeling agency saw my pictures and apparently liked what they saw, and they e-mailed me to see if I'd be interested in the porn business. I really didn't know anything about porn, so the agency invited me to a naked bowling event in the Valley to see how I'd fit in. When Belladonna attacked me, I knew I wanted to make Adult films!
I loved hosting my KSEX show, too. I pretty much just walked into the studio one day and was given a show.
Then, as you may have heard, Brian and I had a very bad breakup. I do want to say that I'm very thankful that the Industry came together to help me detox and to help me move away from that environment. Everyone was really nice to me, but I do want to thank Ron Jeremy, Larry Flynt, Patrick Collins, and Peter Warren specifically. I'm also especially grateful to Suze Randall for helping me adopt out my little dogs to good loving families.
My life got a lot happier after that move. I actually met my husband when I was dating his buddy, if you can believe that. When he met me he ran outside and came back 20 minutes later with one of my DVDs. I autographed it with "Don't forget the lube!" and he still has it today! (Although with me, at least after an orgasm or two, we really don't use lube very often. If you've seen me work, you can probably tell why.)
My guy helped me move again and roadied for me when I was Feature dancing. It was tough for me to keep clean and sober, but he helped me stay straight though good times and bad.
We got married in San Francisco, and I got pregnant the first night of our honeymoon as near as I can tell! My doctor had told me I'd have a tough time conceiving, so I took it as a sign that this was meant to be.
After moving from state to state for a few years I had Baby Number Two. Naturally the childbirth and nursing had the typical effect on my body, so when I decided to get back into performing I knew I'd have some work to do on my physical appearance. My wonderful fans bought photos, paid for web cam shows, and donated money so I could get a boob job and tummy tuck. Now my body is back in tip top shape! I am humbled and my heart is warmed by my fans' love and devotion. I know I don't look "exactly" like I did before becoming a mom, but I have faith that my fans will see beyond the physical differences and look to how much I still enjoy having sex just for fun on camera. Hey, you might even enjoy the new boobs. Even though I always swore I'd never get that surgery, now that I have it, we're enjoying a lot around here. Who knew?
As it sits now, I'm getting my web site together and taking control of the projects myself this time around. I'm still fighting with the people that have all of the stuff from my original cytherea.com, and hopefully that will all work out some day. For now, I'm starting over from scratch, and so far I'm loving every minute of it. Ultimately, I really hope my fantastic fans can reap what they have sowed with all the help they've given me — in money, faith, and inspiration. I am going to have the sexiest, nastiest, squirting-est web site in the world. So hang on tight and explore it with me!
"Ask me anything you want. I'm a very open person."
— Cytherea